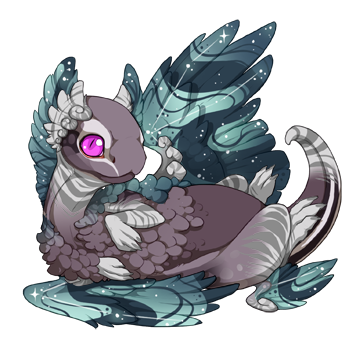 Merriali Era; 4; 2'9"; 1.15.2018
• Questioning [she/her]
• Questioning
Classifications
Alignment--Unknown
Clan--Tribe of Rushing Water
Flight--Arcane
↳ Pokemon
Type--Fairy
Ability--Unknown
Team--Plasma/Mystic
Zodiac
Capricorn Sun; Capricorn Moon; Leo Rising; Capricorn Mercury; Capricorn Venus; Scorpio Mars; Scorpio Jupiter; Capricorn Saturn; Aries Uranus; Pisces Neptune; Capriciron Pluto
↳ True Sign--Unknown
Beliefs/Religion
Unknown
Personality
A happy, healthy child, though she gets anxious when not with
Credence
. She enjoys watching him do simple magic, and has an interest in learning it herself.
Relationships
Familial--
Solas's
daughter;
Credence's
sister
Arrival
A child formed energetically and "birthed" by
Solas
on 1.15.2018. She was hidden from the rest of the Clan for the majority of her early life in the West Wing, with
Credence
as her primary caretaker while
Solas
continued roaming the astral.