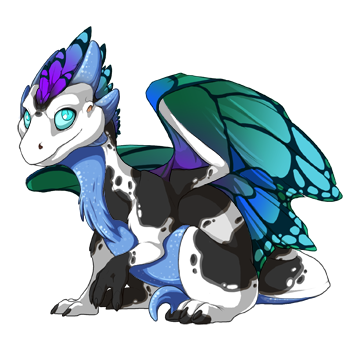 Speedy D'Arby; 10; 4'11"; 7.20
• Polygender [any pronouns]
• Questioning
Classifications
Alignment
--True Neutral
Clan
--Lightningbreeze of WindClan
Flight
--Lightning
↳ Pokemon
Type
--Dragon
Ability
--Strong Jaw
Team
--Rocket/Instinct
Partner
--Breloom
Zodiac
Sagittarius Sun; Taurus Moon; Cancer Mercury; Virgo Venus; Cancer Mars; Leo Jupiter; Scorpio Saturn; Aries Uranus; Pisces Neptune; Capricorn Pluto
↳
True Sign
--Sagius [Hero of Breath; Prospit Sway], Sign of the Traveler
Kintypes
•
Blue dragon
[Dungeons and Dragons]
Beliefs/Religion
Agnostic
Personality
Speedy is curious and full of energy. He enjoys watching in-system drama unfold, exploring inworld, and dragging Holly into all sorts of [mis]adventures. He insists that one day he will be a gentleman, but for now, seems content with the mischief.
Relationships
Familial
--
Daniel
and
Holly's
child;
Electricity's
biological child;
Reidum's
sibling; sees
Zoroaster
as family
Arrival
First fronting on 7.20.2015, they were the first member of the Eclipse Clan that was not in the
Kriegszeit System
. This lead others to believe it was an ageslid
Dio
, until
Dio
fronted insisting that wasn't it. Speedy, of course, found the confusion hilarious.