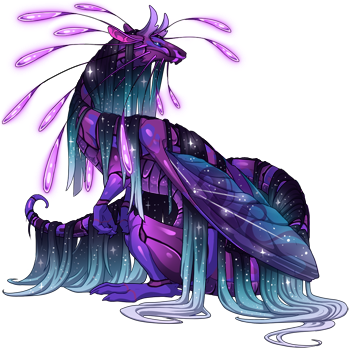 Ysopon Drolim; 20; 6'5"; 12.21
• Demigirl [she/her; it/its]
• Lesbian
Classifications
Alignment
--Chaotic Neutral
Clan
--Nettlefang of RiverClan
Flight
--Water
↳ Pokemon
Type
--Water/Dark
Ability
--Rough Skin
Team
--Aqua/Valor
Partner
--Sharpedo
Zodiac
Sagittarius Sun; Aquarius Moon; Capricorn Mercury; Scorpio Venus; Libra Mars; Virgo Jupiter; Sagittarius Saturn; Aries Uranus; Pisces Neptune; Capricorn Pluto
True Sign
--Aquiun [Hero of Breath; Derse Sway], Sign of the Spontaneous
Kintypes
•
Alternian
[Homestuck];
sharks
;
Undyne
[Undertale]
Beliefs/Religion
Agnostic
Personality
Ysopon is known to act tough, even when unnecessary. She puts forth a hot-tempered yet distant persona to those she doesn't know well. Even when she's not acting, she's energetic, proud, and very loud.
Relationships
Familial
--
Kari's
daughter;
Castor's
sister
Romantic
--In relationships with
Ermes
and
Covree
Arrival
Ysopon is a violet-blooded fantroll created by
Link
. She arrived when summoned on request on 9.28.2015 when
Covree
was injured by a violent spirit in the
Aetas System
. Having arrived the day after
the Thing in the Underroom
was killed, Ysopon was shocked to find royal blood on the carpets. She quickly regained her composure and helped
Kari
recover from her injuries while providing support to
Covree
.